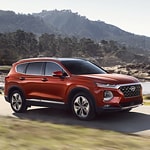 The Hyundai Santa Fe is an adventurous, compact SUV. It has a sleek and sophisticated design. The Santa Fe also offers impressive capabilities. There are plenty of convenience and safety features too. Here at Korum Hyundai, we are impressed with the strong performance features that the Santa Fe offers.
Strong performance requires a strong engine. There's a 2.5-liter, I4 engine that produces 191 horsepower with 181 pound-feet of torque. There's also an available turbocharged, 2.5-liter engine that makes an impressive 277 horsepower. Hyundai even offers a hybrid option that produces 226 horsepower with a range of 30 miles on pure electric power.
Another great performance feature is the Hyundai Santa Fe's all-wheel drive system. This allows for legitimate off-road capabilities that can take you just about anywhere. It also adds to the excellent handling of the Santa Fe. It makes for great performance even on slick pavement or rough off-road terrain.