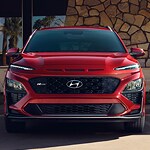 If you are in the market for a new car, there are many excellent vehicles to choose from. But why should you buy the Hyundai Kona? The answer is because it's one of the best cars to buy. Here are five reasons why!
1) Stylish exterior - This car looks great with its sleek design and futuristic look. It will turn heads no matter where you go!

2) Great gas mileage - You'll never have to worry about stopping at the pump. This car gets great gas mileage, so you can save money!

3) Plenty of room for passengers - From the driver's seat, the backseat looks spacious. There are even cup holders for any drinks that you want to bring along.

4) Safety features galore - There are plenty of safety features in the Kona, including adjustable seat belts. You'll always be in good hands when you drive it!

5) Unique entertainment system - This car offers a unique entertainment system where passengers can connect their devices with the car. It's all part of Hyundai's built-in technology.

All in all, the Hyundai Kona is a great vehicle to buy if you are looking for something reliable and affordable. You'll never regret buying it!