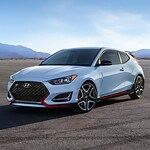 Are you after a thrilling new way to get around in Puyallup? If so, you will want to arrange for a test drive of the Hyundai Veloster today. This one-of-a-kind vehicle not only looks sporty, but it also has the performance features it needs to back it up.
The first thing Korum Hyundai thinks you should know is that this car has a turbocharged four-cylinder engine that pumps out 275-horsepower and 260 lb-ft of torque. Considering the lightweight design of the Veloster, this is more than enough power to give you truly exhilarating acceleration and more than enough passing power.
You will have your choice between an eight-speed automatic and a six-speed manual transmission. All models come with front-wheel drive. They also have an adaptive suspension, an adaptive exhaust system, and a limited-slip differential to help take the performance to the next level.