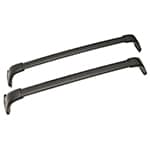 A roof rack creates a solid platform for transporting items safely from place to place. Puyallup drivers can preserve interior space, ensure passenger comfort, and increasing their hauling abilities with these reliable and incredibly popular accessories. At Korum Hyundai, we want to show locals how to get the best value from safe and effective roof rack use.
Choose The Right Container For Storing Your Belongings
Cargo bags and cargo boxes are designed to fit seamlessly and securely into roof racks. Before choosing a box or bag for your items, be sure to read the all of the literature that comes with your roof rack. By doing so, you'll find out the best type and specifications for your on-roof storage. You'll also learn safe loading and unloading techniques among other things.
Calculate The New Height Of Your Vehicle
Whenever a roof rack is installed and loaded, the height of your vehicle will change. As such, you'll have to measure your vehicle's new height before setting out on any trip. When traveling under low-clearance structures, having this measurement could help you avoid disaster. For additional tips on safely using your roof rack or to have your auto serviced by seasoned technicians, drop by Korum Hyundai now.