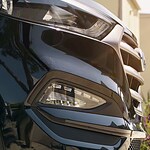 SUVs appeal to millions of buyers, and crossover SUVs list high in popularity among many. The Hyundai Tucson is the "right-sized SUV," a marketing slogan the manufacturer promotes. Consumers responded accordingly, as many prefer the Tucson. What makes it such a good purchase for these buyers?
The "right-size" concept not only refers to its spaciousness and exterior design, but it also refers to versatility. Whether commuting to work in Puyallup, driving to rural getaways, or traveling long distances, the Hyundai Tucson makes a fitting choice. Consider the model a "universal" SUV.
All the special technology features further expand the positive experience. An 8-inch color touchscreen and wireless device charging highlight the technological awesomeness. The tech features do make riding in the Tucson a unique experience for both the driver and the passengers.
Start that riding experience by taking a test drive. Visit our showroom at Korum Hyundai, and someone will help accommodate that request.