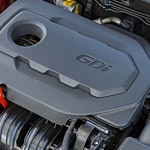 A popular midsize car, the new Sonata from Hyundai comes with all of the performance features that you expect from a high-quality vehicle. These features make the car ideal to drive in even the most challenging of conditions.
One of the most impressive performance features that you will find on the new Sonata is its powerful engine. This engine gives you the speed and durability that you need to drive up steep inclines and down sharp declines. It also gives the Sonata a respectable fuel efficiency. Another feature that you will find on the Sonata is its all-season tires. These tires are equipped to be taken out in smooth city roads and on rocky gravel roads. They allow you to drive anywhere you need to without the worry of losing control of your vehicle.
The Sonata also has built-in navigation, as well as Apple CarPlay. You can use innovative technology while driving.