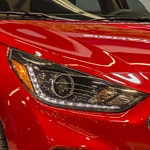 If you've always been told that compact and subcompact cars do not offer good performance, you've never seen or driven the Hyundai Accent, a popular subcompact sedan. This car has not only quick acceleration but will also perform strongly down the stretch! Our team at Korum Hyundai is available to answer any questions you might have or to show you the models we have on hand.
The four-cylinder 1.6-liter engine is more than enough to provide you with all the get-up-and-go you need. Whether you choose the variable automatic transmission or the six-speed manual transmission, performance will never be an issue. One of the Accent's best features is that it performs great on all road conditions while still giving you great gas mileage.
Sometimes, test-driving a vehicle is the best way to fully experience its performance and power. Come to our shop in Puyallup and take the Accent out for a spin!